Hint: It's now.
Physical Asset Management should already be a part of your city's risk mitigation toolbox. However, if it's not, now is the right time to implement.
There always seems to be a reason why now is not the right time to consider and implement a Physical Asset Management plan and program. Ongoing projects, staffing issues, and resource restrictions, among other perceived roadblocks, may cause you to put off deciding against moving forward. Let's look at the risks you're exposed to now and the benefits you will experience once you implement Physical Asset Management.
Risks
Operational: Loss from a breakdown in equipment, assets, or technology
Hazard: Loss from accidents, disasters, backups, and so on
Financial: Loss from mismanagement of funds, grants, operations, and planning
Reputation: Loss from garnering a bad reputation
Litigation: Loss from legal actions against or on behalf of the city

Benefits
Improved services and output
Informed asset investment decisions
Improved efficiency and effectiveness
Improved organizational stability
Demonstrated compliance
Enhanced reputation
Demonstrated social responsibility
Physical Asset Management also provides cities with exceptional control and governance of their assets. It is essential to realizing value through managing risk and opportunity, and used to achieve the desired balance of cost, risk, and performance.* (*ISO 55000: Asset Management)
Doesn't now seem like a good time to put Physical Asset Management in place in your city? Or would you rather wait until one, two, or all of the above risks are realized before taking action?
Still not convinced?
Ok, let's examine where Physical Asset Management fits in with your planning cycle.
Comprehensive Plan: Provides the long-term vision for capital projects and investments
Capital Improvement Plan: Provides the financial blueprint for prioritizing the needs of public improvements
Asset Management Plan: Supports and helps secure the realization of the CP and CIP
If you only have #1 and #2, what then is helping you realize these plans? How are you measuring success, as well as providing visibility of opportunities to pivot?
What is Involved with Physical Asset Management?
The Navy Special Warfare Maxim states, "Take care of your gear, and your gear will take care of you." This mindset can also apply to municipal infrastructure. By adopting this mindset, your city, its residents, businesses, visitors, and staff should all be able to realize the benefits that are listed above.
To effectively and efficiently take care of your infrastructure, we at gWorks recommend implementing and utilizing the eight components of Physical Asset Management. They are:
Plan
Inventory
Condition & Criticality Assessment
Planned, preventative maintenance
Other Activity Management
Job Costing
Analytics for planning, budgeting, and reporting
Software / GIS mapping
gWorks can help you with each of these steps. You can find additional information on these components, including detailed implementation steps, in our free eBook, Physical Asset Management – Why It Matters to You.
Who is Involved with Physical Asset Management?
For a successful implementation, as well as the long-term success of Physical Asset Management to be realized, it takes commitment from all levels.
Elected officials must see what is possible and provide the vision. They need to empower city staff through approval for supporting software and professional services while holding administrative staff accountable.
Administrative staff must commit to Physical Asset Management, along with having the discipline and persistence to hold themselves and others accountable for adherence to the program, processes, and utilization of Physical Asset Management tools.
City staff must adhere to the Physical Asset Management program, processes, and utilization of related tools.
How should cities start with Physical Asset Management?
When beginning the process of implementing Physical Asset Management, it is necessary to start small. Tackling all of the components at once will overwhelm you. gWorks recommends a three-phase approach.
Software | Inventory | Activity Management

Outcomes: Defensible + Build Organization Muscle-Memory

Job Costing | Condition Ratings | Reports

Outcomes: Assess + Early Actions + Preparation for Long-term Action

Criticality | Analytics | Data-Driven Decision-Making

Outcomes: Lanes Cemented + Strength through data-driven analytics and decision-making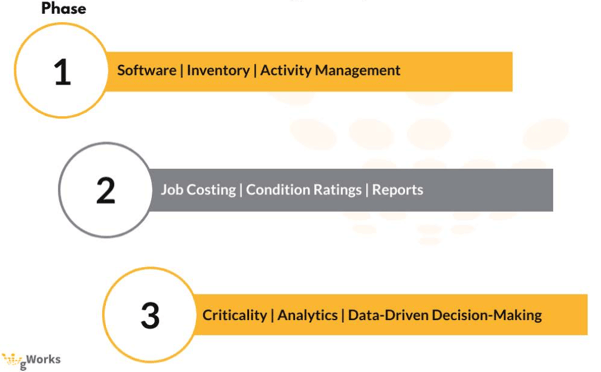 Making Physical Asset Management Possible
gWorks can help! It feels harder to do something, but it's not. Doing small things well can save you a lot of time, money, and effort later. With our SimpleCity solution we make Physical Asset Management… simple!

At gWorks, we have the software solutions, professional services, and expertise to help you every step of the way on your Physical Asset Management journey.
Below are additional resources to help you get started.