As a former City Clerk, I understand the struggle it can be to focus on detailed financial work in an environment where frequent interruption is the norm. Though the reasons for being pulled away from working on city financials are good and necessary facets of a City Clerk/Finance Officer's position, those disruptions can create an environment where mistakes are easily made. City Hall is a busy place!
An auditor once told me that the most important role of the City Clerk/Finance Officer is to produce timely, accurate financial reports for the City Council. This can be difficult to do when mistakes aren't caught and corrected right away - especially those that cause a warning on your Bank Cash Report. In this article, I will introduce you to this powerful, yet simple, tool in SimpleCity that can assist you in the objective of keeping your books in balance on a day-to-day basis. Being confident that your books are in balance will give you peace of mind, especially on the busiest of days.
Understanding how the Bank Cash Report works
1. The amounts in the first four columns of the report pull directly from your General Ledger (Previous Month's Cash Balances, Current Month's Receipts, Current Month's Disbursements, Current Month's Cash Balances).
As you process your daily work in each SimpleCity module, postings that affect the City's cash accounts (in each fund and each bank) will be reflected on the Bank Cash Report when you complete your Update step.
For example, when you update your daily bank deposit in General Ledger or Receipt Management, those revenue amounts will be included in the Receipts column and will increase the total cash balance in the bank they were updated to.
And when checks are updated in Accounts Payable or Utility Billing, those expense amounts will be included in the Disbursements column and will decrease the total cash balance in the bank they are updated to.
At any given time, the result is a report that provides you with cash balances of the funds that make up each bank account.
2. The transactions that are posted in each module are also updated to the Bank Reconciliation module when you complete your Update step. The Bank Reconciliation module emulates your Bank Statement transactions. Transactions that have not been cleared and reconciled in the Bank Reconciliation module make up the amounts that are seen in the Outstanding Transactions column of the Bank Cash Report.
3. Your last reconciled bank balance is seen in the last column of the report. The calculated General Ledger balance made up of all cash accounts, plus the total Outstanding Transactions in the Bank Reconciliation module should equal your last reconciled Bank Statement Balance. If it does not, a warning is seen below the bank where this has occurred.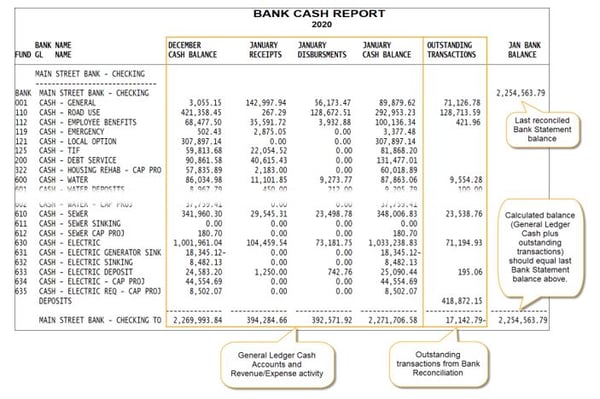 What does it mean when you see a warning on the Bank Cash Report?
A warning on your Bank Cash Report tells you that the General Ledger is not in balance with your Bank. The warning also tells you the amount that they are out of sync. If the amount is positive, it means that your General Ledger module has more posted to it than has been updated to your Bank Reconciliation module. If the amount is negative, then the Bank Rec has more.

The goal is to be sure that every transaction that will show up on your Bank Statement is:
1. Accounted for on the General Ledger and updated to the Bank Reconciliation module (did you complete your process and update to Bank Rec?).
2. The amounts are accurate and the same in both modules.
3. he posting date (to General Ledger) matches the calendar period (the month it updates to Bank Reconciliation).
When any of these conditions are not met, a warning results to alert you that an error has occurred on the books and caused an imbalance.
Checking your Bank Cash Report daily will tell you in a flash whether best practices have been followed when posting and updating transactions in any modules that affect the cash disposition of the city. Checking the Bank Cash Report regularly assures you that daily work has been done accurately. Catching a mistake quickly makes it easier to identify the issue and correct it. Keeping your books "clean as you go" makes the month-end Bank Reconciliation process a simple task, and in turn, gives you confidence that the reports you provide to your council are an accurate recording of all city finances that they depend on to make sound financial decisions.
Let SimpleCity work for you – check your Bank Cash Report daily!
Interested in more information?
Click here to read more about SimpleCity Financial Accounting Management.
Request more information on SimpleCity Financial Accounting Management.
About the Author: Brenda Thompson, gWorks Director of Training, has been an employee at gWorks (formerly Data Technologies) for six years. During her employment at gWorks, Brenda has provided remote and field support, perform new product installations, and has done budget consulting. Prior to her time at gWorks, she worked as a Certified Municipal Clerk/Finance Officer in Iowa for nearly six years.