Joe is the CEO & President of gWorks. This article appeared in the June edition of Cityscape, a publication created by the Iowa League of Cities (ILC). Read the full edition here. gWorks is an ILC Partner.

"It won't happen to us."
"I've been here 40 years, and nothing has ever happened."
"This is how we've always done it."
"We can wait a few years until we deal with it."
We've all made comments like these above whether in our personal or professional lives. Sometimes these things we tell ourselves are immaterial, and sometimes they can upend your life or your organization. Bad things only happen to other people is what we're really communicating. This belief is Excessive Optimism, and it is at the heart of why risk management is so important.
Under state law, as a general rule, Iowa municipalities have some immunity from liability claims but can be responsible for civil wrongs that result in destruction or injury or life, property, or both due to negligence, errors of omission and breach of duty—just to name a few. The employment of risk management—the mitigation of risk through analysis, controls and oversight—aids city leaders in reducing excessive optimism and in building a defensible bulwark because they are proactive in preventing civil wrongs.
An essential tool in your risk management toolbox is physical asset management (PAM), which is the proactive maintenance of, documentation of, and data-driven decision making for physical infrastructure assets in a city to achieve a desired reliability and life at the lowest possible ownership cost.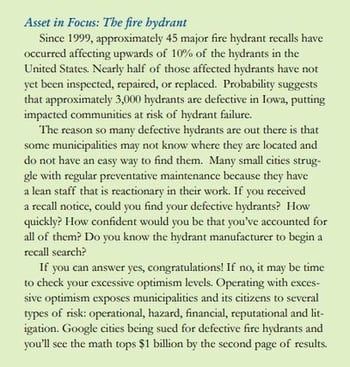 Using PAM as part of your risk management program reduces a city's risk exposure while promoting a better quality of life. Here are five reasons why:
Reliably functioning assets reduces operational risk because stoppages or disruptions decrease over time as does their impact on people and businesses.
Proactive maintenance reduces hazard risk such as sewage backups, unclean water, and their related health risks.
Preventative maintenance reduces financial risk because reactionary maintenance and crisis response are more detrimental to a city's budget than their proactive cousin. Documentation of this maintenance can reduce an insurer's or federal agency's claim processing and investigation time, and it may improve the likelihood of claim approval.
Reliably functioning assets reduces reputational risk because voters will remember the bad and not the good. A city's brand and an official's tenure can be curtailed when assets fail and cause harm to life or property
Logs, documentation and metadata from PAM are considered to reduce litigation risk because a municipality is defensible.
Officials leading municipalities of all sizes seek to achieve a vibrant and resilient community. Citizens want to live in this type of community to raise their families, conduct business and have hometown pride. These same citizens interact with a city's assets throughout the day. A city that employs PAM not only reduces all five types of risk related to Excessive Optimism, but also bolsters the vibrancy, resiliency and pride every community wants.
Wouldn't you rather spend your time being excessively optimistic about your upcoming festival, high school sports tournament or new economic development project than hoping that every fire hydrant will work should it ever be needed?