At gWorks, we're always looking for better ways to serve our clients. One way we can do this is by managing all software support requests through our Customer Service Portal. This exciting enhancement will make requesting support quick and easy as well as provide our clients with visibility and insight into their requests. We have made the Portal available to all our clients, including the SimpleCity Desktop fund accounting software (formerly Summit Municipal Accounting Solutions) users.
Using the Portal is very simple - clients can submit support service requests as tickets, get real-time updates on the status of tickets, and easily converse with our skilled support team. In addition to easily submitting and managing support tickets, the Portal also contains a knowledge base of resources so our clients have access to step-by-step guides, how-to's, and other information to help make the most of their software.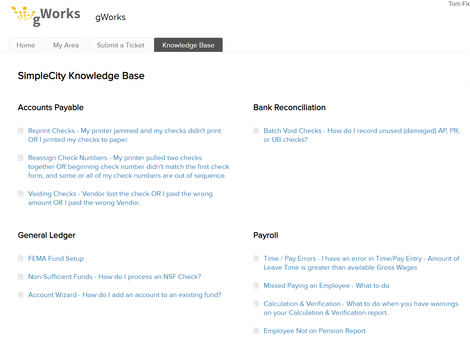 We look forward to bringing the Portal to all our clients and are excited for each one to experience our improved support system and responsiveness from our team. If you'd like more information or are a current client who needs an updated link to the Portal, please contact Chris Bahle at christopher@gworks.com or 888-299-8149.