About the Client
Wayne County is located in northeast Nebraska with a total population of just under 10,000. While the The county has a total area of 443 square miles and consists mostly of low, rolling hills devoted primarily to agriculture. While the Assessor has been a longtime client of gWorks, the county adopted gWorks' WebGIS platform in 2017 with Tabs for four Departments: Assessor, Roads, Emergency Manager, and Clerk. Visit https://www.waynecountyne.org/ for more information on the county or view their WebGIS at https://wayne.gworks.com/.
The Challenge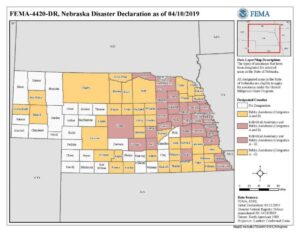 In March of 2019, Nebraska experienced severe weather that caused state-wide devastation and damage. From west to east the state was hit with a bomb cyclone of snow, wind, and rain between Wednesday, March 13th and Friday, March 15th. By Friday night, emergencies had been declared in 53 counties and 41 cities across the state. Emergency Managers had to respond quickly by declaring states of emergency and scrambling to capture photographs, document, and classify the damage that had occurred throughout their counties.
One such county was Wayne County. Faced with a need to take action quickly and decisively, the Emergency Manager collected more than 400 photographs of the damage to roads and bridges throughout the county. Each photo was geotagged with the latitude/longitude of where the photo was taken. As a part of the effort to determine eligibility for relief, FEMA must have access to documentation of the damage from the affected county, including photos and locations of disaster areas. The county needed a fast and simple way to provide FEMA with access to these photos to assist with requests for relief. While Wayne County did have an Emergency Management WebGIS Tab that contained data relevant to the department, there was no quick and easy way to document disasters in real-time – a much-needed piece to help mitigate the flooding in the county.
gWorks Solution
The Wayne County Emergency Manager reached out to gWorks almost immediately after the flooding began. They wanted to see if there was a way to add points for all the disaster locations and upload photos in the county's WebGIS so they could be shared with everyone. They also wanted to be able to edit the status of these points or upload new photos as the statuses of road closures changed and new locations were discovered.
According to Emergency Manager Nicholas Kemnitz, "For the first two days of the disaster, we collected everything on paper because that's all we had. We quickly realized we needed a better way to share this information with the public, FEMA, and Fire & Rescue so we contacted gWorks right away."
Working with Emergency Management staff to solve their problem, gWorks configured its technology to allow the county to upload photos and edit data points. The gWorks team was able to create a GIS layer based on the embedded geocoordinates that show the locations of the damage and upload the photos so they could be viewed with the WebGIS. This saved the county countless hours and the trouble of uploading each photo and creating each point manually.
The result was a layer on the county's Emergency Management WebGIS showing all the disaster locations in the county, color-coded by road closure status. Anyone can click on any of these disaster points to view the photos and see more information such as severity, status, and additional comments. In addition, gWorks was able to customize new tools for the Emergency Manager so they could add additional damage points as they were discovered, edit the status or details as road statuses changed, and upload additional photos. Knowing the situation was time-sensitive, gWorks staff uploaded the data points and customized the tools for the county's use and provided training within a few days.
The Benefit
By making the photos available on their Emergency Management Tab, not only does FEMA have access to the photos but they also have the benefit of visualizing exactly where the damages areas were in a mapping context. This visualization proved to be an invaluable tool to both FEMA as well as county residents.
"The transparency the public is great" says Kemnitz. "Instead of having to drive through the barricades and get stuck, they can see right on the map what the status of a road is and view photos to get a good look at the situation. When people start asking questions about why it's taking so long to get the roads fixed, we can point them to the WebGIS so they can easily see the full extent of the damage."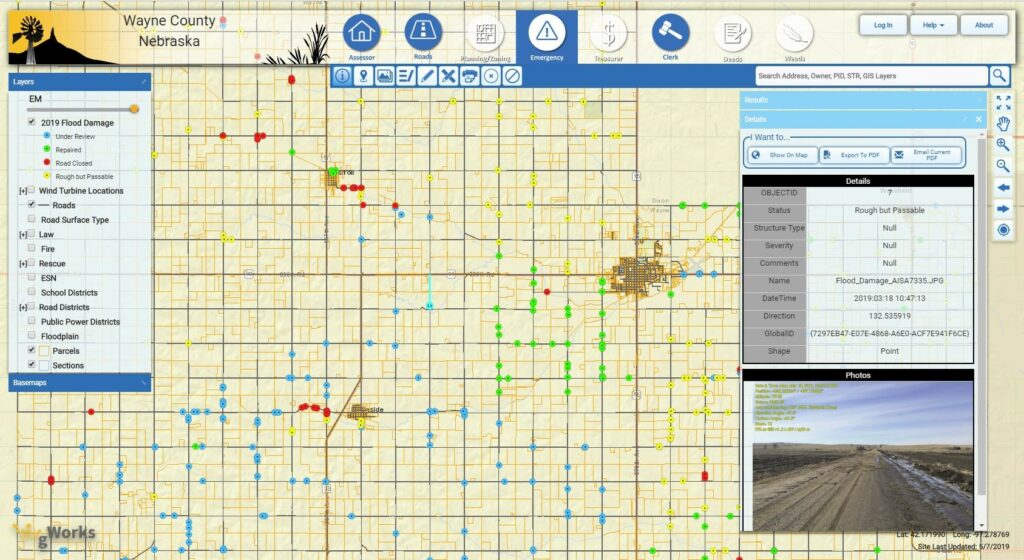 Wayne County did an excellent job promoting this information. They included a link on the home page of their website, making it easy for local residents and visitors to access this map. Visits to the Wayne County WebGIS site experienced a 25% increase in pageviews and a 61% increase in new users in March and April as compared to the previous two months.
Nicholas Kemnitz says the response has been overwhelmingly positive. "The general public is really utilizing it and loving that they can see the progress in real-time. It will also make it much easier for FEMA to work with us." Kemnitz also appreciates the benefits this data has had for public safety in Wayne County. "One of the reasons we started mapping and got our Emergency Management WebGIS Tab in the first place was to share information with first responders Fire & Rescue. Now when a rescue call comes in, the dispatch center can easily see where they can and can't go and which roads to avoid. The WebGIS makes is so easy to share real-time data, which has huge benefits for public safety. Other counties are trying to figure out how we got this information out so quickly."
As a result of the flooding and severe weather in March, the National Floodplain Insurance Program paid $21,127,606 on 1,024 claims (as of May 5/1/19, Source: NEMA). On March 21, FEMA announced that federal disaster assistance was being made available to Nebraska. For claims to be paid out, each county must provide a record of their damaged areas. A WebGIS is a great way to share and display critical information quickly as easily, expediting the entire process. In addition to assisting FEMA with viewing locations of disasters, it can also benefit the county by assisting with insurance claims and increasing public awareness. Wayne County now has these tools at their fingertips in the event of future disasters.
For more resources on how gWorks can help other County Departments, check out some of our other posts and read about how we can help Planning & Zoning Departments and County Assessors.