The average Payroll Clerk spends seven minutes per time card each pay period - preparing and handling the time cards, calculating and verifying the totals, computing shifts, or dealing with lost or damaged time cards. Manually preparing 100 time cards takes an estimated 11.67 hours to complete, which can cost $175.05 per pay period! (source)
Imagine processing Payroll when all the hours worked and time off has already been entered and verified. Simply calculate, approve, and submit for payment!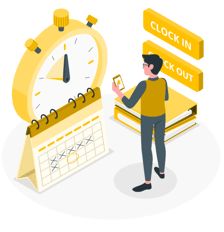 HR Hub Standard includes the optional TimeTracker add-on. TimeTracker empowers employees to clock in and out for all their various shifts and positions, update timesheets, view their leave balances, and request time off. TimeTracker also makes it easy for supervisors to manage leave requests and approvals, view and approve timesheets, and manage shift and union employees who need special considerations. Set up rules specific to your agency around shifts, holidays, pay policies, overtime, and comp time to make the entire Payroll and management process simpler and more streamlined.

TimeTracker is fully integrated with Payroll Cloud, automating processes and workflows. Since it's cloud-based, it can be used anywhere on any device with an internet connection. With TimeTracker you'll save time, increase accuracy and productivity, and provide added convenience for both employees and those responsible for processing payroll.
See TimeTracker in Action!
No more paper timesheets that have to be turned in. No more manually entering timesheets or chasing them down to make sure payroll gets submitted on time. No need to manually enter overtime, sick time, and shift exceptions when processing Payroll.

Not only is it time-consuming to manually enter hours, but mistakes are more likely which can result in delayed or incorrect payments. TimeTracker will make it easier and increase productivity for employees, supervisors, and Payroll Administrators.

Find out how TimeTracker can provide a better, more streamlined experience for you and your employees.