The Challenge
Having accurate and current asset inventory data enables local government to effectively allocate resources which saves time, costs, and disruptions. The first step is identifying what each asset is, where it's located, and logging the details of that asset. However, actually collecting this information requires a significant amount of time, money, and manpower, which often puts it at the bottom of the priority list. Many cities don't have a current inventory of all their assets, nor the resources to collect it. The City of Alma faced this common challenge -- they were in need of the data but did not have the resources to collect it themselves. Alma City staff sought to improve their infrastructure asset management and develop a comprehensive street plan, but first, they needed a record of where the assets were located. gWorks was able to reduce this burden by performing the data collection on behalf of the City so city staff could focus on what they do best.
The gWorks Solution
Up until this point, the data for each asset in Alma's Water, Sewer, and Gas systems were stored not on paper or on maps but mentally in someone's head. Because they had no physical record of the location for many of their assets, they sought out gWorks to collect the locations their city assets, associate relevant details with each one, and aggregate all the data in a single place so that it would be easy to manage and access. gWorks worked with the City of Alma to collect the locations of the city's assets using mapping grade GPS collection units, creating a much-needed physical inventory of the City's critical resources. gWorks staff was able to collect data for several City Departments in less than a week, a task that would have taken city staff months to complete. The collected data was then loaded into a comprehensive GIS for the City so they could view and manage all the data from a single, visual repository. Retired Alma City Administrator, Doug Wilson, oversaw this project.
"Two of our guys have been here for 40 years each, all the information about our assets was in their heads and the maps hadn't been updated. gWorks gave us a great opportunity to get information out of their heads and into a system where other people can see it." - Doug Wilson, Retired Alma City Administrator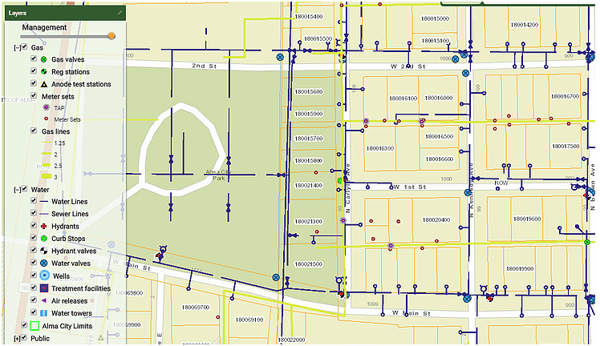 The Benefit
The result is a complete and accurate map of all assets in the City that can be accessed by city staff using SimpleCity Physical Asset Management cloud application. The City of Alma can now access all their assets in a single place and view where each asset is located along with other crucial details such as age, brand, or date of last maintenance. Knowing where their resources allow the city to perform critical job functions including routine maintenance, reporting, and active management of these resources. gWorks' skilled GIS Technicians are experienced GPS data collectors, and they have all the equipment and software to get the job done quickly and professionally. They can collect and deliver a current, accurate, and complete inventory of a city's assets so that they can focus on proactively maintaining and improving the community's infrastructure and making informed, data-driven decisions.
"gWorks has been tremendous to work with, we appreciate all the hands-on help we've been given. Being a small town, we don't have a lot of the same capabilities and resources available to bigger towns. This is something you'll see a lot of small towns - they don't have a lot of opportunities for new and improved technology. The system gWorks provided gives us access to new technology and will be easy to maintain going forward with our limited staff." - Doug Wilson, Retired Alma City Administrator
At gWorks, we have the software solutions, professional services, and expertise to help you every step of the way.