There has never been a better time to focus on improving your communication and transaction channels with your citizens than right now. Providing a modern, convenient, and satisfying experience to both city staff and the public is a great way to boost citizen engagement, as well as employee efficiency and job satisfaction.
To make this experience a reality, a virtual access point to your city needs to be established and available from any computer or smartphone. One where citizens can pay their city-related bills online, access their account information, fill out and submit forms and applications for things like licenses and permits, and receive text messages or emails from your city, and more. Relying solely on in-person experiences for these services is no longer a realistic expectation.
There are many things to keep in mind when looking for a solution that will provide your citizens and your city with the experiences described above. Here are high-impact areas you should prioritize in your search.
Online Payments
Online payments have become an expected norm and no longer a nice-to-have. According to a PayPal Government Research Study (source),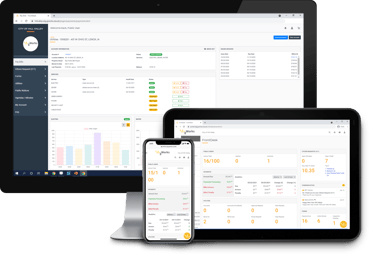 93% of citizens believe governments should offer online payments, and 88% would pay online if available
82% say paying bills online would make their lives easier
75%

would likely pay their bills sooner if they could pay them electronically
How does this help you?
With most citizens wanting to pay online and willing to pay sooner, your accounts receivable aging and your cash conversion cycle will decrease. This means less time spent chasing down late payments.
With the convenience of paying online coupled with an autopay feature, the predictability and consistency of cash inflows will improve.
Administrative costs of processing check and cash payments and calling upon people to make late payments will decrease. According to the Payments Journal (

source

), cash and checks cost an organization 7.1 cents for every dollar received; whereas, online payments carry an administrative processing cost of 5 cents for every dollar received (30% reduction!).
Look for a solution that offers a simple and easy experience paying city bills while saving city staff time, money, and the stress endured from processing and chasing payments.
Utility Usage Data
Allowing citizens to view their utility usage, easily track all of their utility accounts, and submit service requests online provides a superior level of convenience to in-person interactions. Providing a way for city staff to see usage for all accounts in one place, manage service requests in a queue, and track service and usage histories for service addresses is a must if you are serious about improving internal efficiency and elevating your level of customer service.
Let your utility customers quickly view their usage online from their computer or smartphone. They will no longer have to call in, walk in or fill out paper service request forms.
Online Forms
Citizens want convenience and digital access to your municipality, including the ability to easily submit forms. You need a modern digital platform for your citizens to fill out and submit forms online, including options such as electronic signatures and online payments.
Forms should include any sort of written request for review or approval, from pet licenses to construction permits. Citizens should be able to fill out, submit and make form-associated payments online. City staff should then be able to immediately access the submitted forms online for faster processing.
Many clerks say responding to questions is their single most time-consuming task, according to the Granicus State of the Clerk Report (source). Managing and responding to form requests can be a burden. You should consider a solution that allows you to increase transparency and reach more people.
Agendas & Minutes Management
One of the most vital and time-consuming aspects of a clerk's job is the preparation and documentation of meetings. The process can take days, or even weeks, every month. Relying on paper-based processes is outdated, error-prone and time-consuming.
40% of clerks say the biggest challenge they face is lack of resources (Granicus)
31% of clerks cited records management as the task they spend the most time on and 61% still felt like it wasn't enough (Granicus)
Look to streamline your meeting management process, saving you time and paper while increasing your efficiency through automation.
Takeaway
There are other areas to consider, such as email and text notifications, offering online 311 requests, and the usability and ease-of-use of your city's website. By providing a modern, more pleasing, and accessible experience to your public and city staff, you signify and create pride that your city is committed to providing modern, convenient tools to build a stronger community and a smarter government.
Countless vendors offer one or two products to address these areas of need. Only gWorks offers you FrontDesk, a single solution that is an easy-to-use, time-saving toolkit built through cloud-based technology to empower your operations.
---
Related Articles